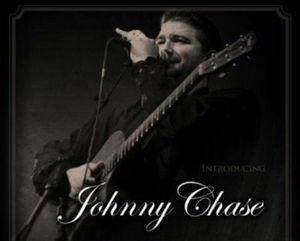 My STory
     Johnny chase is a dominating force in the st louis arena performing more than 300 shows a year in venues of all shapes and sizes from full band performances in stadiums, arenas, and large concert venues and casinos,  to intimate solo acoustic performances at  local wineries, hotels, and bars....no stage is too big or too small for johnny chase!!  you are sure to find him out following his passion performing his own original songs along with your favorite artist's songs any given day of the week.  
                   So.... Where does all of his passion and drive come from?     
     The debut CD's title, "801 days", explains that quite well with it poignantly referring to the number of days johnny Chase's young son was alive before tragically drowning in an ice cold pond nearby due to a car accident in the beginning days of january.... Originally written to facilitate his own healing after his son's death, johnny Chase decided to record the songs for others to hear, hoping it would help listeners endure life's inevitable heartbreaks, large and small. The resulting CD traces the performer's journey through the mind-altering experience called life......    while his sophomore release "Invincible" would continue to drive home the message that although one of the songs is titled "Tomorrow's too late"....it's really never too late to start really pursuing your dream or passion and really beginning to live your life.  
          "801 days" quickly grabbed the attention of television and film companies!!!!   among them hbo, MTV, WB, and cNN had all jumped at the chance to utilize Johnny Chase's songs in shows like -entourage, ellen degeneres, tyra banks, next, cw now, anderson cooper 360, the early start, and many more...with a few of his songs even being signed over to Warner Bros. Music Group!!!
       Johnny Chase's NEWest full Album "Invincible" is again already grabbing the attention of TV/Film Companies and major TV Networks both in the U.S. and UK!!! It is filled with a vast variety of impressive rock songs that have the ability to break you down and build you right back up!!! It is expected to continue and even surpass the accomplishments of the very successful debut album "801 Days" .... The visceral aspect of Johnny Chase's sound combines the drive of 90's rock with the emotional urgency of today's songwriters, delivering gritty and powerful, yet clean vocals packed with passion with a very real depth.  The collection of original tracks from this artist fills the musical bookends of love and loss that resonate with audiences around the world.....and maybe even further.
       Johnny Chase's musical journey is tied closely to his personal triumphs and tragedies. His passionate performances and emotion-packed songs are a reminder of how precious life is.  It is a fact he knows well and the force driving him to create music that empowers both himself and his fans.....