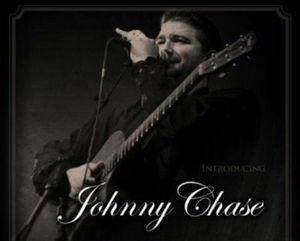 Meet Johnny Chase, a dominant force in the St. Louis arena, captivating audiences performing over 300 shows every year for more than a decade!  From electrifying full-band performances in stadiums, arenas, and large concert venues to intimate solo acoustic sets at local wineries, hotels, bars, corporate functions, and house concerts…there is no stage too big or too small for Johnny Chase. His passion for music knows no bounds, and you can catch him any day of the week, performing his own original songs alongside beloved hits by your favorite artists. 
But where does Johnny Chase's relentless drive and unwavering passion come from? 
The title of his debut CD, "801 Days," provides a poignant answer. It symbolizes the number of days Johnny Chase's young son spent alive before tragically drowning in a car accident on a frigid January day, forever changing his life. Originally written as a means of healing for himself, Johnny Chase made the courageous decision to record these songs, hoping they would help listeners navigate life's inevitable heartbreaks and losses, both big and small. The resulting album traces the performer's journey through the transformative and often unpredictable experiences that make up life. 
      After almost losing his own life as a result of a brain tumor.  He was compelled to again reevaluate his life and purpose and began writing his sophomore album release, "Invincible," which further emphasizes the message that it's never too late to pursue your dreams or passions and truly start living. His songs titled "Tomorrow's Too Late," and "I Think It's Gonna Be Today" set the theme for the album encouraging listeners to embrace the present and seize every opportunity. 
The impact of "801 Days" was quickly recognized by television and film companies, with HBO, MTV, WB, and CNN eagerly incorporating Johnny Chase's songs into popular shows such as "Entourage," "Ellen DeGeneres," "Tyra Banks," "Next," "CW Now," "Anderson Cooper 360," and many more. Some of his songs even found a home with Warner Bros. Music Group. 
Now, Johnny Chase's latest full album, "Invincible," is already attracting the attention of TV and film companies as well as major networks in the US and UK. Filled with an impressive range of rock songs capable of breaking you down and building you back up, the album is poised to surpass the achievements of his highly successful debut, "801 Days." Johnny Chase's sound combines the driving force of 90s rock with the emotional urgency of contemporary songwriters, delivering gritty and powerful yet soulful vocals that resonate deeply. The collection of original tracks explores the spectrum of love and loss, connecting with audiences worldwide and beyond. 
Johnny Chase's musical journey is intimately intertwined with his personal triumphs and tragedies. Through his passionate performances and emotionally charged songs, he reminds us all of the preciousness of life. He channels his experiences into empowering music that touches not only himself but also his dedicated fans. Johnny Chase is a force to be reckoned with, using his art to inspire and uplift those who listen.